Find Online Shopping Bargains Everyday
Online Shopping Bargains All Year Round!
Welcome to Crazy Sales! Our mission: to bring you ridiculously low prices on absolutely everything we sell.
Check out our Online Store for amazing bargain goodness. There's a great deal waiting for you at CrazySales, so get shopping and save big!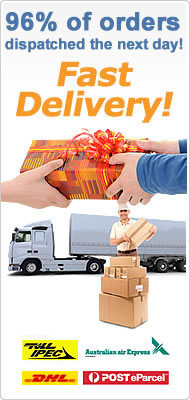 Welcome to CrazySales.com.au
Welcome to CrazySales.com.au, the fastest growing site for online shopping in Australia: we're the online store that gets direct deals from the manufacturer to you!
Your First Stop for Online Shopping in Australia
At CrazySales, you can go online shopping for direct deals on everything from electronics, appliances and furniture, to fashion and beauty, and even pet supplies! Our electronics department has everything from LCD TVs to digital cameras and iPods, and we have all kinds of home appliances on sale from fridges and freezers to small home appliances like coffee machines. You'd be mad not to take advantage of our factory-direct deals on your favourite fragrances and buy perfume online from our incredible selection of top brand beauty products.
We've got a huge range of direct deals on luxury products, but we also have direct deals on the things you really need when you're online shopping. We have a full range of power tools and direct deals on cleaning and housekeeping goods for affordable DIY and home maintenance. We also stock office supplies at prices you can't beat; our range of direct deals on cheap printer cartridges and laptop batteries is second to none. And with discounts of at least 30%—and right up to 80%—you're sure to save whenever you take advantage of the direct deals online shopping at Australia's craziest bargain site.
CrazySales Rewards You for Online Shopping
And our massive discounts are not all! When you're online shopping with us you'll be able to use our unique CrazyPoints online shopping reward program to get further discounts off our already crazy prices. At CrazySales, every dollar you spend with us earns you a bonus CrazyPoint, and that means free rewards! There's no better value online shopping in Australia.
Fast Delivery for Online Shopping in Australia
Not only do we have amazing direct deals, but when you shop online at CrazySales you'll also save time and money on shipping and delivery. We offer fast, reliable, reasonable shipping by means of Australia Post's eParcel for whatever you buy online. If you order anything heavy from us, we'll use Toll IPEC to ship it to you. If you're shopping online and have an urgent purchase, we'll get your special deal direct to you as fast as possible with Express Shipping. Over 96% of all our orders ship the next business day!
CrazySales Offers Safe Online Shopping in Australia
We understand that when you're looking for direct deals while online shopping in Australia you're concerned about the safety of your transactions. At CrazySales, your personal and credit card details are completely safe and secure behind our SSL technology. We'll never pass your details on to anyone else, we promise.
Online Shopping in Australia with Great Service
We're proud of our online shopping experience, our direct deals and our excellent service. If you're not completely satisfied, or even change your mind, just talk to a member of our staff and send the item back to us within 30 days. And now it's even easier to talk to us if you're shopping online in Australia, just use our Live Chat facility. We're waiting to help.
CrazySales: Award-Winning Online Shopping in Australia
When we said that we were one of the fastest growing sites for online shopping in Australia, we meant it. We've served over half a million happy customers with our direct deals, and CrazySales is a Hitwise Top 10 award-winning website!
We hope you'll enjoy shopping with us!
Copyright © 2007 - 2013 Crazy Sales. All rights reserved.
ABN 21 984 138 439 | PO BOX 1016 Springvale, VIC 3171, Australia