Philips Jamie Oliver HomeCooker - 1500W with Stirrer, Steamer & Pasta Insert
Price Drop! Was: $425.95 Now: $189.95. For a limited time only, while stocks last.
Join our newsletter to get advanced notice of special promotions.

* This promotional offer is only valid if you complete the checkout payment process before the stated promotion end time.
Share this Bargain:
SKU: HR104090

Be the first to write a review

*
---
Express Post Available
Express Delivery Cost: $32.04
The quotation is based on

1

item(s) and postcode:

2000

ETA:

1 - 2 working days
-Help
Delivery Choices Available
1.Standard or express delivery
2.Specific date or day of the week delivery (Monday to Friday)
3.Morning (7am-12pm) or afternoon (12pm -5pm) delivery windows
4.Customer collection option
You May Be Interested In The Following Products
Product

:

Jamie Oliver Home Cooker will help you make meals from scratch, even on your busiest days. The Home Cooker will give you an extra pair of hands in the kitchen. Easily create your
homemade meals from scratch and have one thing less to focus on. It cooks and stirs for
you, so you can enjoy other things you like.

Featuring a hands-free cooking system, you can enjoy healthy meals by unattended cooking. You can choose the temperature, set the timer, turn on the stirring attachment and it even will automatically shutdown when the home cooker is done.

And since we know that you want to spend your time preparing, cooking and enjoying food rather than washing up! Once you are done, the accessories from this homecooker are dishwasher safe for easy cleaning.

Easy and unattended cooking

The HomeCooker allows you to leave during cooking
Always the exact temperature you need
Timer up to 99 minutes, with ready signal
Automatic shutdown

Perfect cooking that's full of variety

Jamie Oliver recipe book full of variety and inspiration
Unique combination for perfect end result
Pasta insert, steaming basket and tray for different recipes

Quick and easy cleaning

Dishwasher-safe parts for easy cleaning

Check out the official website

here!

Find more Appliances , Small Kitchen Appliances and Other Appliances

Features

:

Specification

:

Product Dimension (L x W x H)
26.5cm x 34.5cm approx
Brand
Philips
Range
Jamie Oliver
Model
HR1040/90
Technical Specification
Power
1500 W
Voltage
220-240VAC
Frequency
50/60Hz
Cord Length
1 Meters
Heating Capacity
3 Litres
Accessories
Accessories Included

Steaming basket
Steaming tray
Pasta insert

Design Specification
Materials
Stainless Steel
Plastic
Colour
Black
General Specifications

Hot plate indicator light
Cord storage
Non-slip feet
99 minute timer
40-250-degree temperature
Stirrer on/off switch
Ready signalOn/Off switch
Automatic shut-off
Lid with steaming hole
Removable heat protection ring

Package Information
Package Dimension (L x W x H)
40cm x 30cm x 40cm approx
Package Weight
6.8kg approx
Crazysales accepts a range of payment options including PayPal, BPAY, Visa, Mastercard. Rest assured as all payments are processed using the latest SSL encryption technology!
All items are sent via Australia Post or another courier.
Once items are sent, delivery times may vary according to Australia Post or courier's delivery schedule.
Most items are dispatched within 24 hours of payment clearance (BPAY may take longer).
Transit insurance is used to cover all products.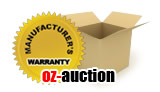 This product comes with a 2 Years Manufacturer's Warranty, please click here for details.
For warranty and returns assistance please contact us at ozauction@gmail.com
Statutory conditions and warranties also apply.
Thank you for viewing this product. To purchase this product, click "Add to Cart".
Philips Jamie Oliver HomeCooker - 1500W with Stirrer, Steamer & Pasta Insert
Crazy Price:
$189.95
*GST inc.
Delivery & Handling: $11.02
Copyright © 2007 - 2013 Crazy Sales. All rights reserved.
ABN 21 984 138 439 | PO BOX 1016 Springvale, VIC 3171, Australia