People who viewed this item also viewed




36 Pair Shoe Storage Rack - Hangs Over Door[SR10452]
Crazy Price:
or 3.74 Per Instalment with
Earn 
14.95
CrazyPoints! (
100
CrazyPoints Equal
$1
)
Enter postcode and suburb to recalculate.
Combine Shipping & Save
Help

Ask a question ?
Crazysales Review From Google
0 Reviews in total
See All Google Reviews
Based on customer reviews and data from Google and/or its partners.
* Get double crazypoints if your review is one of the first three approved!
Crazysales accepts a range of payment options including PayPal,BPAY, Visa, Mastercard.
Rest assured as all payments are processed using the latest SSL encryption technology!
36 Pair Shoe Storage Rack - Hangs Over Door[SR10452]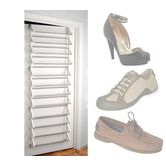 Thank you
for viewing this product.